SDEA Essentials of Teaching and Learning Approaches - Community of Practice
As part of our efforts to engage our members, as well as our belief in life-long learning, SDEA has formed an ETLA-Community of Practice (ETLA-COP) where ETLA alumni will come together every quarter to share best practices and new knowledge to advance professional practice. Each ETLA-COP session will focus on a different topic of interest, and will provide participants with the time and space to reflect on their teaching practice, as well as share and learn from their peers in a causal, relaxed environment.
ETLA-COP aims to provide members with a platform for networking and support.
For the inaugural ETLA-COP, participants will take a deep dive into SDEA's Code of Professional Practice to discuss its efficacy and relevance to the current landscape, especially when navigating the sector post-covid. 
During the COP, participants will also get the opportunity to address current issues in their professional teaching practice as well as reflect and respond to one another. ETLA-COP will also be an opportunity for networking. Please bring your own food/drinks!
This ETLA-COP will include a small graduation celebration for the most recent batch of ETLA participants (ETLA08).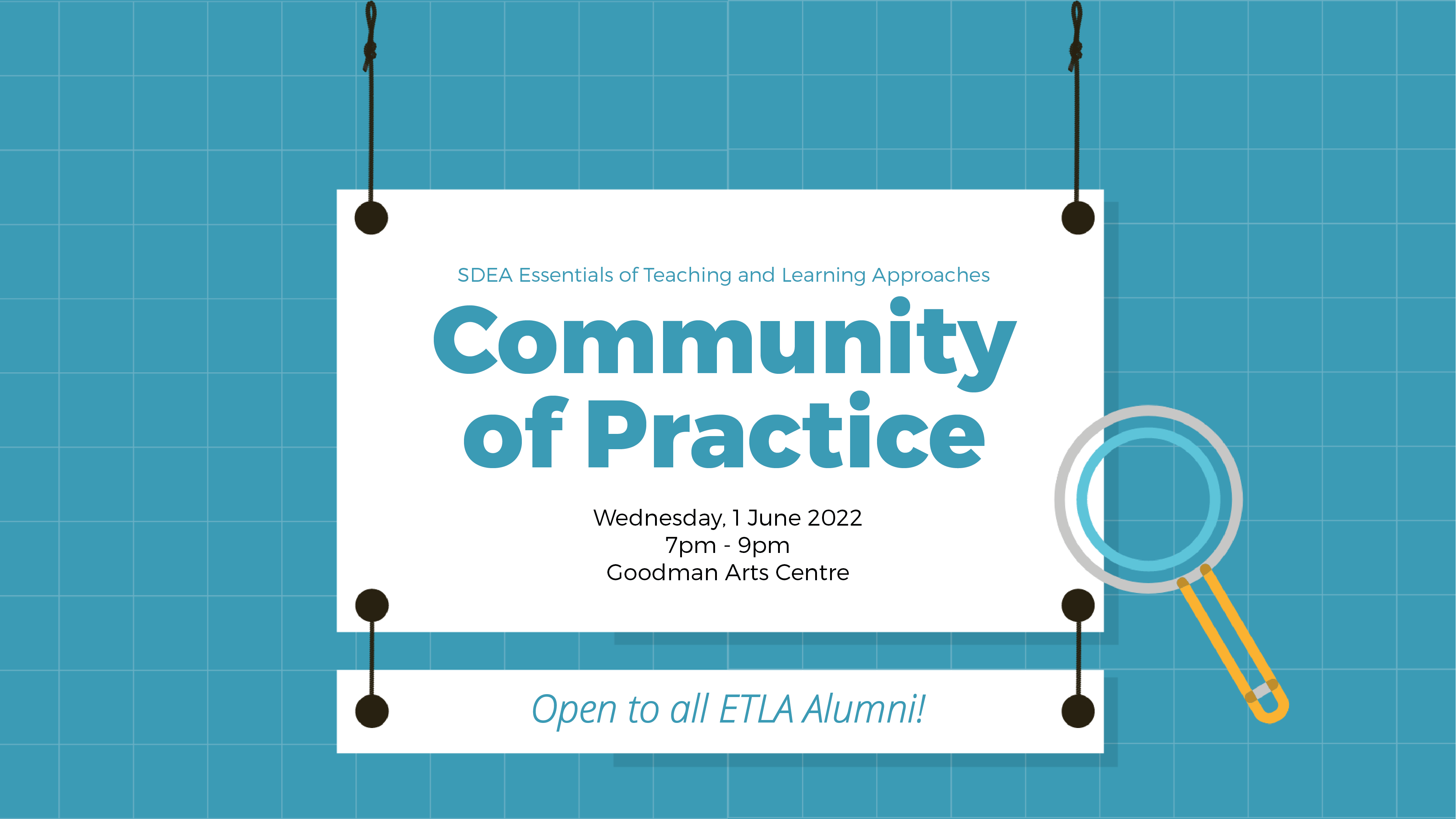 *Please note that ETLA-COP is only open to ETLA Alumni.
About the Facilitators
Jeremy Leong, SDEA Secretary (2021-2023)
Jeremy Leong is a freelance drama educator and performer. He is also the Co-Founder of Zip Zap Zoom Collective where he conceptualises, produces, and creates arts experiences for young audiences. An Associate Artist with The Storytelling Center Limited, Jeremy also shares the oral tradition of storytelling with the next generation through his performances. 
While only becoming a member of the Singapore Drama Educators Association (SDEA) in 2019, Jeremy's personal experience with the association goes back to 2013 when he first volunteered for the Theatre Arts Conference as a theatre student then.   
Since joining SDEA, Jeremy has benefited from the association through networking and professional development opportunities, and was in the sub-committee for the Theatre Arts Conference 2021. 
Adeeb Fazah, SDEA Committee Members (2022-2023)
Adeeb is a theatre director and drama educator. As Artistic Director of The Second Breakfast Company, he directed works like Family (2016), The Singapore Trilogy (2021) and The Essential Playlist (2022). 
Adeeb worked with Bhumi Collective on Last of Their Generation, which was presented at the Edinburgh Fringe in 2017. As Artist-in-Residence of Gateway Theatre, Adeeb directed Heather (2019). He is also a founding member of Impromptu Meetings, a committee member of STRIKE! Festival, and also co-founder of In The Round, a network of emerging theatre directors. 
He also works with young people as an educator across various secondary schools, polytechnics and junior colleges in drama-in-curriculum and co-curricular activity programmes. 
If you require any support, please contact projects@sdea.org.sg.