Access the Arts Freelancer's Playbook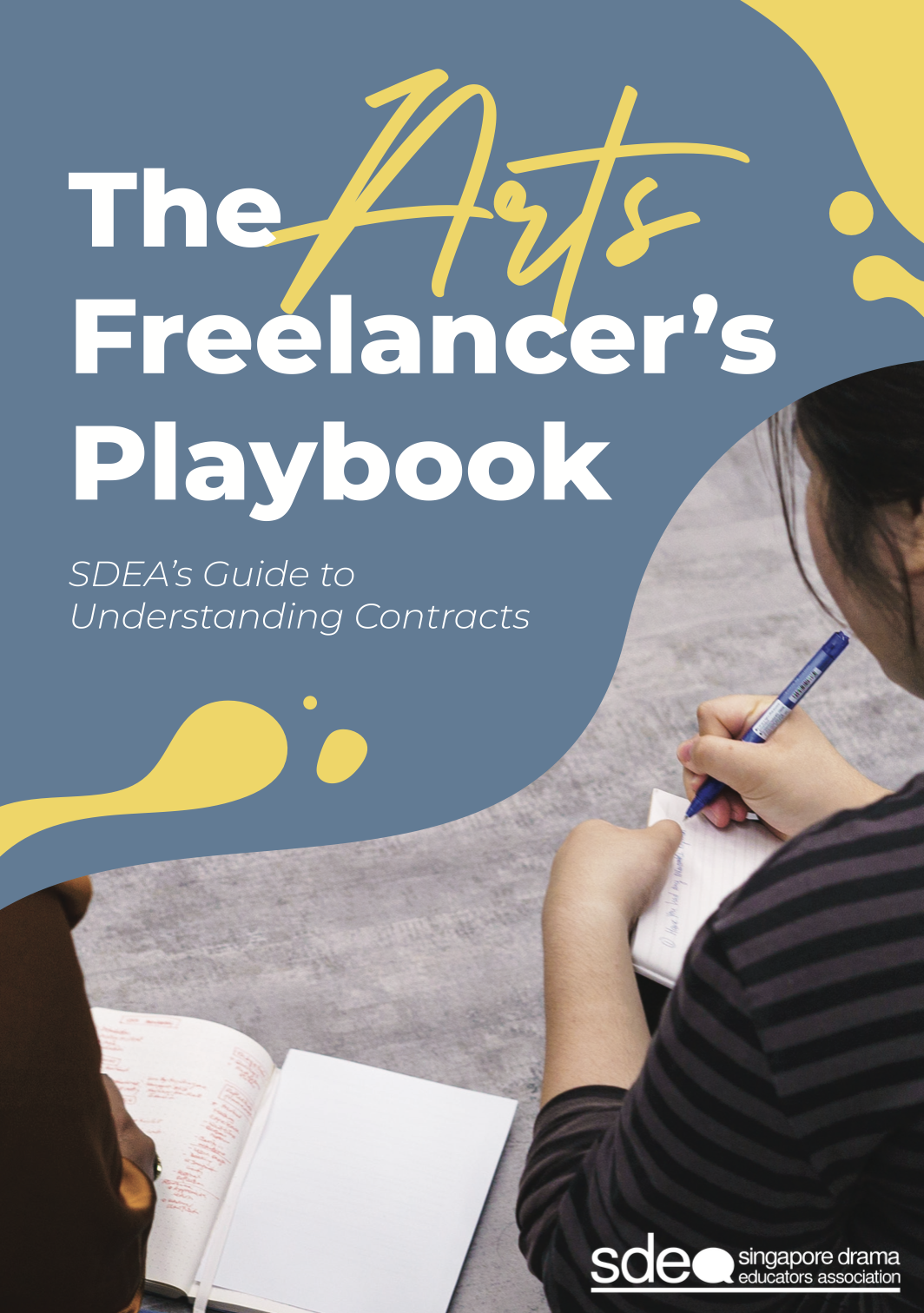 Click here to access the playbook.
Message
by the SDEA Advocacy Subcommittee
The birth of this advocacy project goes as far back as 2019, before the pandemic hit. We had already identified a growing desire among the community to better understand the contracts we are given. Are they fair? Do I understand what each clause means? What can I negotiate for?  
Then 2020 came around. Drama educators began losing work and all forms of income due to lockdowns and circuit breakers, and the urgency was high to 'do something'. We held focus groups, surveys, and got in touch with the Ministry of Education. These dialogues paved the way for a decision to allow contracts to be extended to allow vendors to be paid, albeit at a later date. 
It spawned the Legal Playbook for Ideal Terms and Conditions Interest Group focused on discussing and creating a list of ideal terms and conditions for drama educators. This interest group would go on to form the Advocacy Sub-Committee, and this list of terms and conditions evolved as we emerged from the pandemic to become what it is today. 
After two years of focus groups, discussions, and reading through contracts, we have created this living resource, The Arts Freelancer's Playbook: SDEA's Guide to Understanding Contracts. 
This is not the end of our journey. This is a first step. A foundation upon which we can continue to gather feedback, add chapters, revise the document, and host dialogues to advocate for greater change.  
We must acknowledge the contributions of all who came for our focus groups, sat in our meetings, gave their legal expertise, and shared their stories with us over these past two years.  
We must also acknowledge community's efforts to create a fairer environment for the arts. Publications like the Advocates for the Arts, initiatives like the Arts Resource Hub, ground-up efforts like the Good Practices in Singapore Theatre paper, and the work of collectives like Producers.SG all prove that this is not just our effort, but a collective one.  
Effecting lasting change will take more than a document. Creating fairer conditions will take more than a meeting. It will take collective and sustained effort to better equip ourselves to have these dialogues in our own spaces so that we can create the change necessary for our good work as practitioners to shine.  
This is our first step, and we can't wait to do more. 
Aishwariyah, Adi, Ghazali, Kamini, Kuan Cien, and Mark 
The SDEA Advocacy Subcommittee, Feb 2023 
Foreword
by Wang Liansheng
Navigating the world of contracts is not easy. For a person who is not legally trained, needing to negotiate/ prepare their own contracts may be a daunting task. The idea of creating this playbook stemmed from a pressing concern: Many freelancers do not have the luxury of institutional support behind them. In addition, they may not have ample resources to hire lawyers to review, prepare or assist them in negotiating their contracts.
Hence, this playbook is meant to be a practical guide for drama educators (and freelancers, in general) to manage the intimidating world of contracts. Each chapter will provide a concise summary of the types of clauses one would see in a contract, and the considerations one may have in relation to each of these types of clauses. Hopefully, it equips our readers with specific crucial information.
Naturally, this playbook is not intended to reduce the role of professional lawyers in negotiating, reviewing and preparing contracts. However, it attempts to guide the reader to be more informed and aware of relevant definitions, terms and consequences.
Feedback
If you have feedback on the playbook or if there's something you would like to see, fill up this form here or email us at office@sdea.org.sg.