Annual General Meeting 2021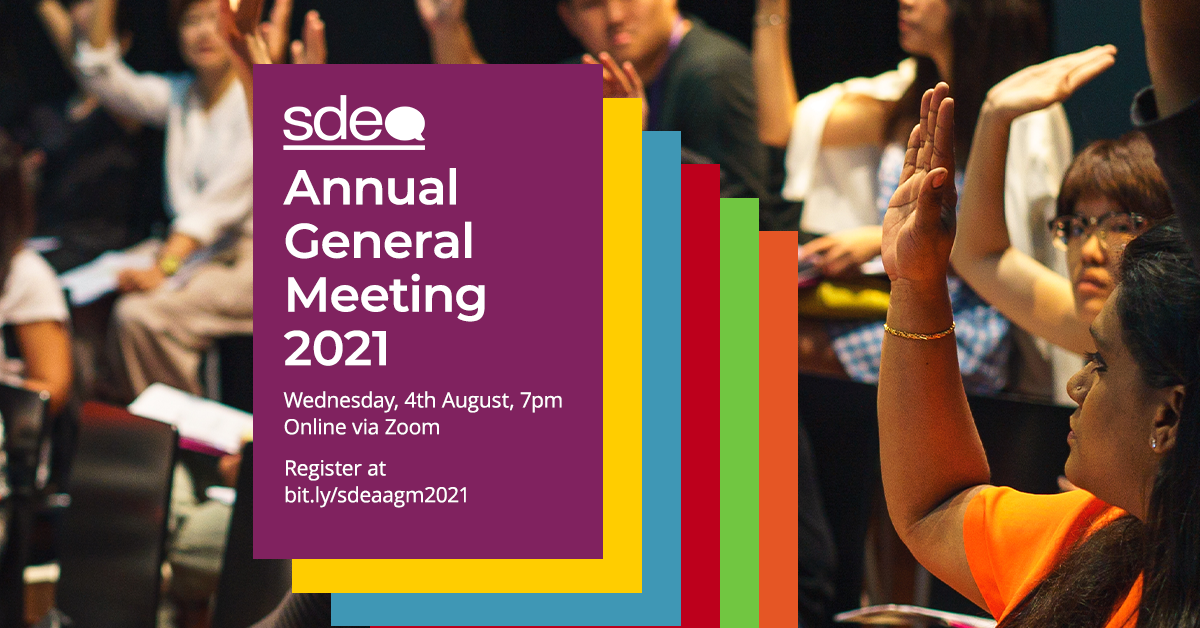 Calling all SDEA members!
We will be holding our annual general meeting on Wednesday 4th August 2021, 7pm, online via Zoom.
Join us for this vital AGM as we reflect on an eventful year and vote in a new committee to take us through to 2023. With the changing landscape in Singapore, the next couple of years will be crucial in understanding SDEA's place as an arts advocacy group. This is our chance to elect a committee that can best represent us and lead us forward.
Agenda for Meeting
Proposed Agenda
Declaration of Quorum  
Adoption of 18th Minutes of SDEA Annual General Meeting  
Welcome Address by President  
Presentation of 2021 Annual Report and Financial Report  
Adoption of 2021 Annual Report and Financial Report  
Launch of Membership Management System 
Update on SDEA Activities in 2021/2022  
Election of SDEA Committee 2021 – 2023  
Any Other Business  
Have something you would like to address?
If you have something you would like addressed at the Annual General Meeting, you can drop us an email at office@sdea.org.sg with the subject "AGM2021 Agenda Item Proposal" to let us know, and we will do our best to address it during the meeting. 
Nominating a New Committee
The current committee will be ending their term at the AGM on 4th August 2021, and a new committee will be voted in to lead SDEA for the next 2 years.
Nominations are still open! Make your mark on the drama education landscape in Singapore! Run for the committee.
Current Nominees
As of 12 July 2021, SDEA has received 3 nominations. These are:
Jasmin Wong, President Nominee
Tabitha Surita, Committee Member Nominee
Jeremy Leong, Committee Member Nominee
You may read more about them and their statements here.
Nomination Process
Download and fill in the form here. 

You can either:

Nominate another member whom you think should be a committee member (with expressed consent)
Nominate yourself and stand for election

Return the completed form via email to office@sdea.org.sg before the AGM. 
The nominee will need to get the support of 2 backing SDEA members, as stated on the form.
Nominees will be announced on our website before the AGM, and nominees will be required to give a short 5-minute speech at the AGM prior to voting.
Terms of Reference
If you are thinking about running for committee or would like more information on the roles and responsibilities of each committee member, you can download the terms of reference for Office Bearers here and for Committees here. 
Be involved
If you would like to find out more about how the committee runs or are thinking about running to be a committee member yourself, we are opening our committee meetings to any member to sit in. The upcoming committee meetings are as follows:
30 June 2021 - 7.30pm
14 July 2021 - 7.30pm
28 July 2021 - 7.30pm
Frequently Asked Questions
If you have any questions on the nomination process, or voting, do check out the FAQs below. If you need more clarification, feel free to drop us an email at hello@sdea.org.sg