Celebrate Drama! 2014: YOUth Take On Local Literature
Registration is closed.
About Celebrate Drama!
Celebrate Drama!, organized by Singapore Drama Educators Association (SDEA) is a local youth and community festival that brings together the combined efforts of teachers, artists, youths and the community who do interesting and meaningful work with drama. It features workshops, performances, dialogues, exhibitions, film screenings, and presentations.
In the 8th year running, the theme for Celebrate Drama! 2014 is "YOUth Take On Local Literature".
Workshops and performances use lesser known Singapore literary works as a stimulus to learn new drama skills and deepen understanding of drama processes.
Facilitators for the workshops include celebrated local playwright Haresh Sharma as well as young emerging talent Faith Ng to theatre stalwarts like voice trainer Matt Grey and director Sean Tobin, who is currently with the School of the Arts. Up and coming director, Rayann Condy, also shares her insights in a directing workshop.
Ten secondary schools are invited to present devised performances in response to a selection of local poems. To encourage simplicity and innovation in play making, they will use props that can be carried in a bag of a specific size.
Two invited schools also present their take on local texts, Two Faces by Gregory Nalpon and Neighbours by Alfian Sa'at.
All the performances end with a post-show discussion to encourage dialogues in discovery of the texts as well as challenges in their playmaking.
Celebrate Drama! 2014 also features hearing impaired performers who work with the National Technological University Welfare Service Club and a youth forum discussing the challenges of breaking into the Singapore theatre scene by experienced theatre professionals in the creative and production aspects.
Through Celebrate Drama!, SDEA encourages youths not only to view each other's works but to collaborate in workshops and have meaningful dialogues with each other about drama, local literature and to make new friends through drama.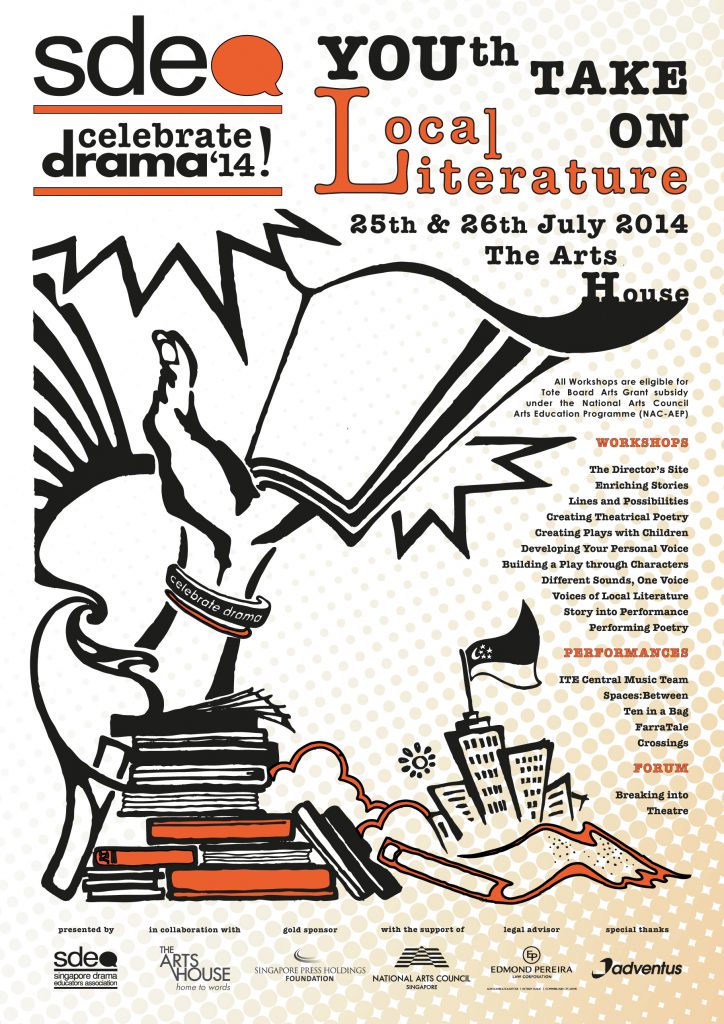 Festival Archive
Press Features:
Price:
Workshop: $60 (SDEA Member) ; $80 (Public) ; $60 (Student and NSF)
Performance/Forum: $20 (SDEA Member) ; $25 (Public) ; $25 (Student, Individual) ; $20 (Student, Groups of 5)