Connections: Defining Arts Integration for Teaching Artists
On 2 September 2016, teaching artists Randy Barron and Sean Layne from the Kennedy Center led participants through a demonstration of the fine arts centre's definition of arts integration.
Participants at Connections benefitted from the practical demonstration of an integrated science class, the discussion about applying the framework in the local context, presentation of scientific research in the study by the Kennedy Center as well as website resources for further discourse on integration.
Feedback
The different levels of constructivism vs traditional teaching was good.
I liked discussing with other participants, knowing more about how the other educators are doing and the challenges.
Excellent pacing!
How do we all (converted) move forward together through collective action?
Click to access the Publicity Emailer.
---
Registration is closed.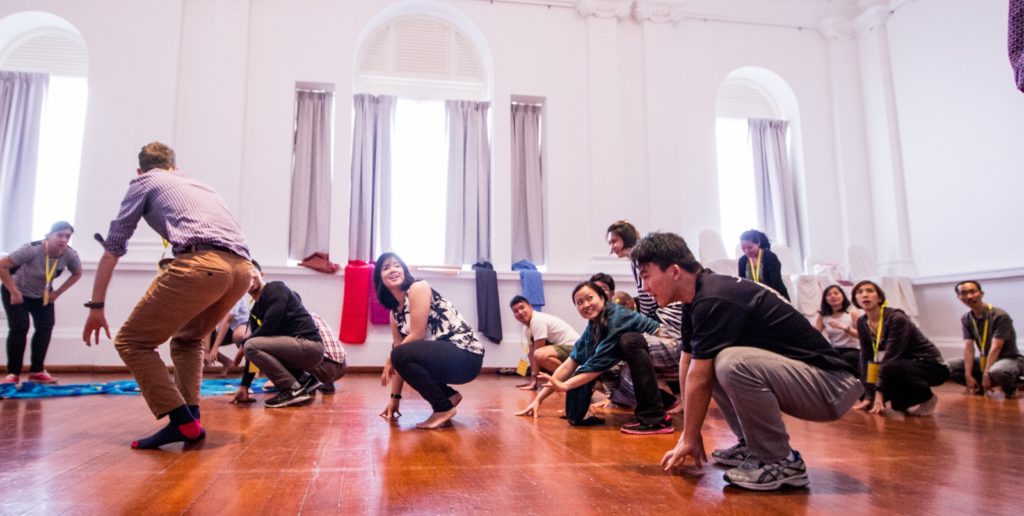 Many of the Kennedy Center's professional development offerings are based on a philosophy and practice of teaching called arts integration. So what is arts integration? This session unpacks the Kennedy Center's definition and gives you the opportunity to uncover the characteristics of quality integration. In addition, the session includes your participation in an arts-integrated lesson and examines how arts-integrated instruction aligns with current learning principles and best practice.
About the Teaching Artists
Randy Barron has been a Kennedy Center Teaching Artist since 1995. For over thirty years, he has designed and led arts-integrated residencies for students, and he has led over two hundred professional development workshops for teachers, across the United States. Randy danced and choreographed professionally with ballet and modern dance companies across the United States and was the Executive Artistic Director of City in Motion Dance Theater in Kansas City, Missouri. Randy has a wide range of experience in education. He also holds a Bachelor of Science degree in biology from Rockhurst University, and is a former volunteer firefighter / EMT.
Sean Layne is the founder of Focus 5, Inc., an arts education consulting company providing services to schools, arts organizations, and museums around the country. Sean holds a BFA degree in acting and studied acting in London, England.  He has worked in the field of arts integration for over 25 years and is an Arts Coach for the Kennedy Center's Changing Education Through the Arts program. Sean began working with the Wolf Trap Institute Early Learning Through the Arts program in 1989. As a Master Artist, he represented Wolf Trap across the country and internationally, and designed and piloted new residency and workshop models.
About the Session
Price: SDEA Members $20 ; Non-SDEA Members $60 Participants to come in comfortable clothes.