Connections I - Workshop: Drama Education in Early Childhood
SDEA's made its first Connections with early childhood educators sector on 20 and 21 March 2015 with workshops and forum focusing on early childhood education. This aspect of programming seeks to widen SDEA's scope to include early childhood educators. As a professional body for drama educators, SDEA seeks to engage with as many sectors of educators as possible and early childhood educators is one particular sector that SDEA would want to engage with.
After the workshops, participants were able to understand theoretical underpinnings of the approach, to create a draft plan for implementation in their particular workplace based this approach and to gain the confidence to share this plan and the ideas relating to it with others.
---
Registration is closed.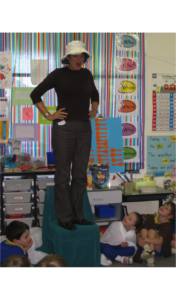 Connections Workshop: Supporting the development of creativity, literacy and narrative competence by linking play, drama and books in the kindergarten years
This workshop is intended for artists, educators and practitioners who work with kindergarten aged children. In the workshop, participants will explore through practical activities an approach that is aimed at developing children's creativity, literacy and narrative competence. Using picture books as a stimulus, the workshop will introduce participants to drama strategies that educators and artists can employ to support the development of quality dramatic play experiences for young children. The practical experiences offered in the workshop will be underpinned by key theoretical literature from a range of connected fields.
About Dr Julie Dunn
Dr Julie Dunn is an associate professor in Drama Education and Applied Theatre at Griffith University in Brisbane Australia. Julie's practice and research is focused on drama, play and playfulness. Her early childhood work is focused on the links that can be made between literacy, oracy, narrative competence, play and drama. Julie has presented keynotes and masterclass workshops in a range of global contexts and is widely published. Her most recent book, co-authored with Michael Anderson (University of Sydney) is entitled "How Drama Activates Learning: Contemporary Research and Practice".
About the Workshop
Suitable for drama practitioners, theatre companies working for the young and post graduate students on 20 March 2015, Friday
Suitable for pre-school educators and pre-school drama educators
Price:  SDEA Members $200 ; Non-SDEA Members $280
Note: 10% discount is applicable for 5 and more participants, please email to projects@sdea.org.sg.  
The workshops will proceed with a minimum of 10 participants.