Masterclass Series: Communicating With Puppets
Artistic director of Paper Monkey Theatre Ltd and puppet master Benjamin Ho facilitated the 'Communicating with Puppets' masterclass on 16 January 2016 attended by 13 participants. Benjamin introduced the different kinds of puppets like rod puppets and hand puppets as well as shed light on which best matched different student profiles. Participants were also brought through the steps to make an inexpensive rod puppet from household items such as forks, towels, yarn, a Styrofoam egg that can be easily sourced for classroom activities. The group enjoyed the session which brought them closer to the art form and wished for more time in experimenting with playing with the puppets.
Click to access the Publicity Emailer.
---
**Registration is closed.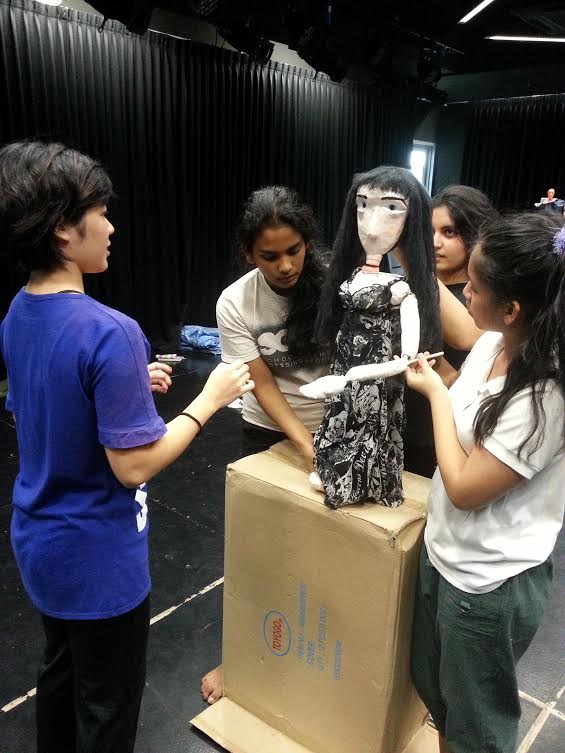 16 January 2016: Communicating with Puppets
The masterclass series is SDEA's platform to advocate regular professional development among drama educators, drama trainers and theatre practitioners through flexible and skills-focused 5-hour workshops. We all believe in the magic of puppets but many are deterred from using puppets in their works with young people because they are not sure how to make puppets or perceive of them as being too expensive. Artistic director of Paper Monkey Theatre Ltd Benjamin Ho will demonstrate how to make inexpensive puppets from daily objects that adults and young people alike would enjoy. Also, he will share how to use puppets to create fun and engaging activities for youths. Recommended for educators, drama trainers and theatre practitioners who work with youths.
About Benjamin Ho
Benjamin Ho started his acting debut with Kuo Pao Kun's play –"Lao Jiu" and co-founded Toy Factory Theatre Ensemble where he wrote and directed many productions. In 1997, The Theatre Practice invited him to be a full time artist with them and he helped set up The Finger Players (TFP). Under TFP, Benjamin continued to write and direct numerous plays that performed in schools and overseas festivals. After a decade with TFP, Benjamin felt a need for change and left TFP to set up Paper Monkey Theatre Ltd in 2008. Under this new company, Benjamin Ho continues his work as the artistic director. He has over 20 years of experience in working with young people using puppets.
Details of Masterclass
Price: SDEA Member $220 ; Non-Member $280 (normal rate)
Save the date for these Masterclasses…
30 October 2015, Saturday – Creating an Atmosphere of Possibility with Sharmini Winslow In coming across disruptive students in the classroom, the temptation is often to label them as difficult, oppositional or naughty and uncooperative. Psychodrama can offer a fresh way of viewing these challenging moments. In this masterclass with experiential therapist Sharmini Winslow, you will have the opportunity to explore and experience the world from many perspectives and generate ideas that will create an 'Atmosphere of Possibility'. The workshop is recommended for educators, trainers and people who work with at-risk youths.
Time: 10am to 4pm
Venue: Promises Healthcare Pte Ltd, Novena Medical Centre, 10 Sinaran Dr, Singapore 307506
14 November 2015, Saturday – Devising with Oniatta Effendi This masterclass will take you through methods and techniques for creating devised pieces of work and cultivating an ensemble bond with collaborators. Recommended for drama trainers, educators and theatre practitioners.
Time: 10am to 4pm
Venue: Blk B #01-03, Goodman Arts Centre, 90 Goodman Road, Singapore 439053
23 January 2016, Saturday – Directing for the Drama Facilitator and Teacher with Chong Tze Chien Award-winning director Chong Tze Chien unpacks the complexities of theatre direction and explains the steps one needs to take to direct for theatre. Some of the lesson points include: script interpretation via stage blocking, effective communication with actors; incorporating design and staging devises in storytelling. Recommended for drama trainers and drama educators.
Time: 10am to 4pm
Venue: Blk B #03-11, Goodman Arts Centre, 90 Goodman Road, Singapore 439053
Masterclass Series Discounts:
Register now for all four masterclasses in the series to get a special 10% discount.
Enjoy 10% off for bookings of 5 participants or more.
SDEA Theatre Arts Conference full pass holders will receive 10% discount off each masterclass.
Please email projects@sdea.org.sg to enquire about the discounts above.