(Postponed) Connections 2020: Inspiring Engagement - Swiping Right On The Arts Panel Discussion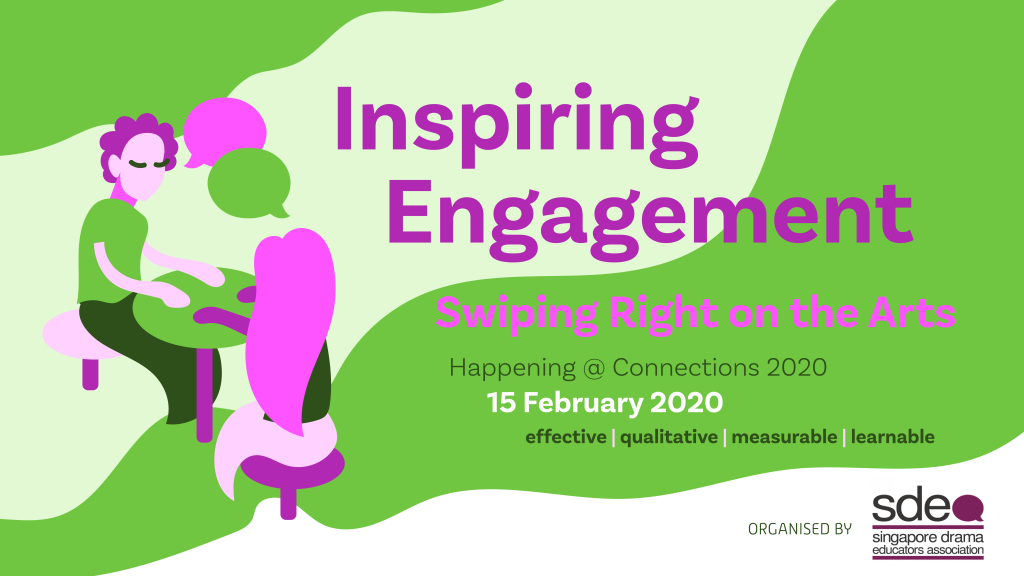 Postponement Notice in light of the novel coronavirus

In light of the situation regarding the novel coronavirus and the raising of the risk assessment in Singapore to DORSCON Orange, the SDEA Committee has decided to postpone our upcoming event, Connections 2020: Inspiring Engagement - Swiping Right on the Arts originally on Saturday, 15th February until further notice for the safety of our participants. We would like to thank you for your support for SDEA and for Connections 2020, and we sincerely hope that you will stay safe in this period and be able to join us in the future when a new date is set. If you have any questions, please do not hesitate to contact us at office@sdea.org.sg or at +65 6345 6997.
What do we desire from the Arts? What is effective engagement? How do we measure the quality/effectiveness of the Arts? On Saturday, 15th February, swipe right on the arts and join us for a panel discussion on Arts Engagement at Connections 2020!
Moderated by Oniatta Effendi, this panel discussion will involve parents, students, practitioners, educators, and policy makers, who will examine concerns regarding effective arts engagement, and ask the question "What does Arts Engagement mean to us?" This panel discussion follows a 'speed dating' session in which invited stakeholders - parents, students, practitioners, educators, and policy makers - will discuss Arts Engagement and create discussion points for the panel.
Time: 3.30pm - 5pm
Date: Saturday, 15th February 2020
Venue: Multi-Purpose Room, Block O, Goodman Arts Centre
Price: Free Admission by Registration
---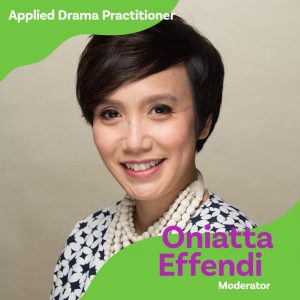 Oniatta Effendi - Moderator
Oniatta is an educator with over 20 years of experience in the classroom. A strong advocate of the Arts and an active applied drama practitioner, she believes in the transformative nature of drama, especially with vulnerable communities. She has worked with ex-offenders with addiction issues in a halfway house, youth offenders in juvenile rehabilitative spaces, youths in welfare homes as well as youths with special needs. Oniatta was a full-time lecturer at Singapore Polytechnic with the Applied Drama and Psychology programme. She was last teaching at Nanyang Academy of Fine Arts as a Senior Lecturer in the Theatre department where she had conceptualised and led students on their first Overseas Immersion Programme in Yogyakarta in 2019.
Oniatta finds absolute pleasure in Batik. She founded Baju by Oniatta – a clothing line, dedicated to revive Batik by reinventing the way it is worn and appreciate, and has recently opened a boutique called Galeri Tokokita to house her collection of batiks and batik apparel. Oniatta is a proud mother of 5 children.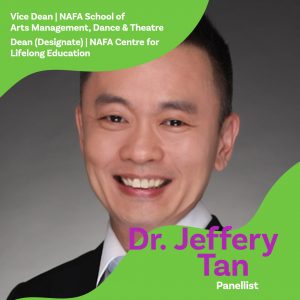 Dr. Jeffery Tan - Panellist
Jeffery's theatre and arts management skills were honed during his tenure as Resident Director of The Necessary Stage. As a key member of this major arts company, Jeffery was often described as the enfant terrible of Singapore theatre. Under the moniker "Jeff Chen", he has directed numerous productions that have generated enthusiastic discussion in the theatre industry since 1998. His latest projects include LIFT: Love is Flower The (2013) which was a recipient of the National Arts Council's Art Creation Fund and presented by Theatreworks. In 2015, at the invitation of Esplanade - Theatres on the Bay, Jeffery directed a restaging of Kuo Pao Kun's Descendants of the Eunuch Admiral to critical acclaim. During his time with The Necessary Stage, Jeffery was also directly involved in various aspects of arts management, including devising creative strategies in programming, marketing, publicity, audience development and fund-raising. He programmed and managed a quarterly platform for cutting-edge performing arts and a series of forums on cultural issues that ran for eleven instalments. Over the course of running this programme, Jeffery had the privilege of collaborating with many acclaimed artists such as Amanda Heng, Heman Chong and Susie Lingham.
In addition to his roles as theatre director and arts manager, Jeffery is a committed educator. He has developed syllabi and taught arts management, arts policy, theatre, film and cultural studies at National University of Singapore, Nanyang Technological University, National Institute of Education, Ngee Ann Polytechnic and various secondary schools. He has also been invited to deliver guest lectures and keynote speeches at University of Northern Colorado, Hong Kong Baptist University and Burapha University.
Since 2015, Jeffery has worked at Nanyang Academy of Fine Arts (NAFA). As the Vice Dean of its School of Arts Management, Dance & Theatre, he managed the Arts Management and Theatre Programmes and redeveloped the degree and diploma courses.
In August 2020, Jeffery will assume the position of Dean of NAFA's Centre for Lifelong Education. He looks forward to contributing towards the reskilling and upskilling of Singapore's arts professionals in this new position.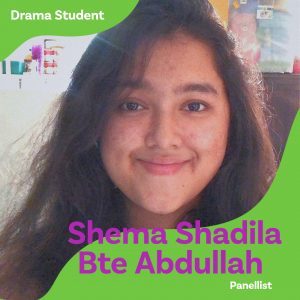 Shema Shadila Bte. Abdullah - Panellist
Shema is a 17 year old drama student from Victoria Junior College. On the panel, she will be sharing from her own perspective as a student, her views on arts engagement.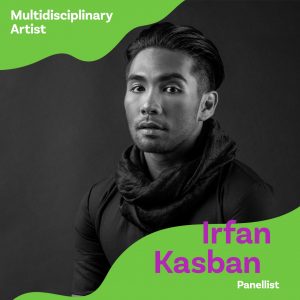 Irfan Kasban - Panellist
Through writing, directing, performing, and designing, Irfan Kasban hopes to create intricate universes as a celebration of space and time. A freelance professional since 2006, he is currently an Associate Artist with Teater Ekamatra. Irfan has since traversed mediums and disciplines - in hopes of find peace, in the art of war.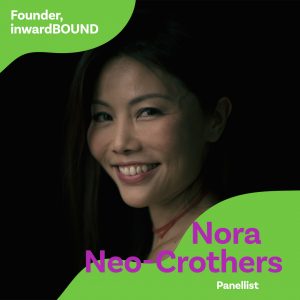 Nora Neo-Crothers - Panellist
Nora Neo-Crothers is the founder of inwardBOUND, a drama education company that uses drama to empower creative change. Over the course of 15 years, she has witnessed how the transformative power of drama has evolved into a multidimensional medium- to create visions, articulate ideas, test decisions, all in a shared collaborative space of theatre. inwardBOUND has toured their shows to more than 200 schools, sharing interactive works from cyberbullying to casual racism; on xenophobia to just plainly, our common identity. It has inspiring more than 15 000 youths to create awareness-driven performances, exploring issues that tugs at the hearts.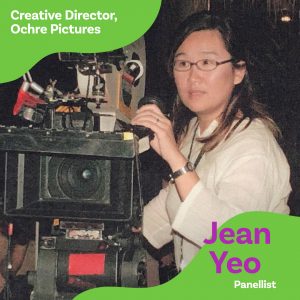 Jean Yeo - Panellist
Jean is the creator for two of Singapore's highest rated English drama series Lion Mums and Last Madame in 2019. A veteran writer and producer, Jean has been involved in some of Singapore's most iconic projects including Growing Up, Triple Nine and Moulmein High as well as award-winning documentaries on National Geographic and Discovery. Jean spearheaded Ochre Pictures, an independent production company focusing on quality content in various genres. As an active member of the media Industry, Jean was also the Founding Vice President for AIPRO.
Register here: bit.ly/connections2020panel
---
About Connections
Connections is SDEA's non-partisan platform for connecting stakeholders in the education sector through open dialogues on current challenges, issues and developments with the aim to inspire change. Through this platform, we have initiated and facilitated dialogues with/between various stakeholders such as NAC, MOE (CPDD, ECDA and AEB (formerly CCAB)), NIE (VPA), WDA, teaching artists, educators and various professional theatre companies.