SDEA Annual General Meeting 2022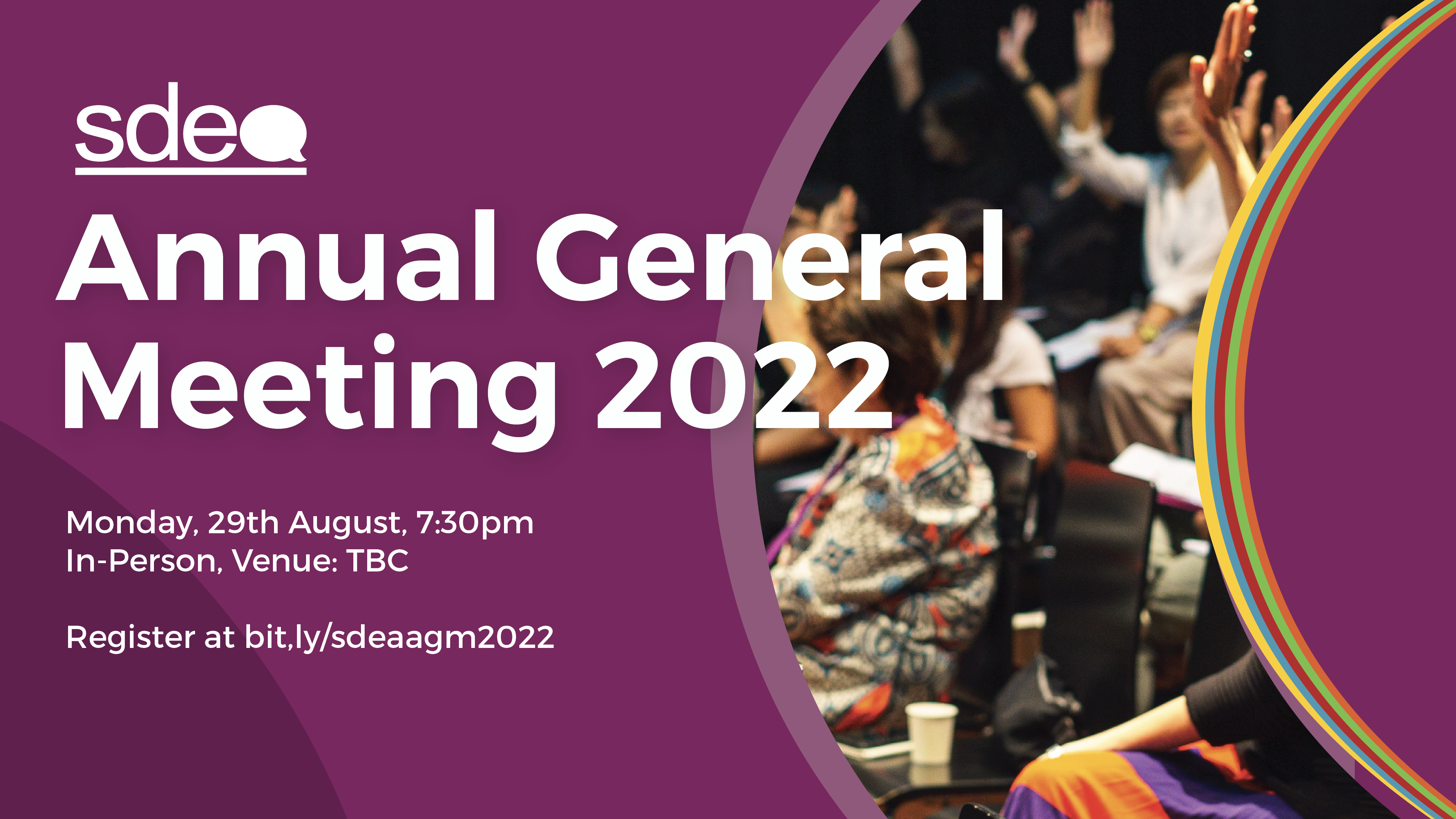 It's our first in-person general meeting after 2 years! Join us at this 20th Annual General Meeting as we reflect on an eventful year coming out of the pandemic, and look forward to the next year and many more years to come.
What to look forward to:
A recap on the previous year
2021 was a roller coaster of a year that saw us pull off our very first online Theatre Arts Conference, a hybrid Level Up! Fest, as well as run various interest groups and kickstart advocacy projects. All while navigating evolving technologies, changing SMMs, and COVID cases. Find out how we did as we present our Annual Report FY2021.

The first in-person AGM in 2 years
We've been waiting for this. A chance to meet old friends, make new ones and have a drink face-to-face. Catching up isn't quite the same over Zoom, but now, it's real. 

Food and drink will be providedFood brings us together, and we can't wait to share a drink with you once more. We're finalising our venue plans, but we want to assure you that food and drinks will be provided. 

Old and new faces
This AGM will be a chance to meet new faces in drama education while catching up with old friends! Since the last in-person AGM in 2019, 87 drama educators, practitioners, arts managers and more have joined us, with many familiar faces still with us after many years. 
Future Updates:
Here are some updates we will be making in the next few weeks. Stay tuned by registering now!
Venue
We are currently working to finalise an accessible and relaxed venue for the Annual General Meeting.

Agenda
The proposed agenda for this meeting will be posted as soon as it is ready. If you would like to submit an item for the agenda, drop us an email at membership@sdea.org.sg by 22 August.

Annual Report and other documents
We will be making the annual report and other relevant documents available digitally before the AGM for your perusal.