SDEA Drama Pedagogy: Essential Teaching and Learning Approaches course - 3rd intake
This 40-hour certification course provides participants with fundamental pedagogical knowledge and skills to help them create meaningful and imaginative learning experiences for their students with drama. The course results in a Certificate of Completion recognised by the National Arts Council and is the only part-time drama pedagogical course for professionals in Singapore.
Course Objectives:
Develop greater awareness of the role and impact of a drama educator in the Singapore context
Understand the creative potential of drama-based pedagogies that aim to foster students' curiosity, empathy and criticality
Understand key components of lesson planning and acquire skills in planning developmentally appropriate drama lesson for target groups
Manage resources and the physical environment as part of classroom management
Minimum Requirement:
The course is suitable for educators with at least 2 years of classroom experience
NOTE: To read the module synopsis and schedule in details, move your cursor to the box above labelled Course Synopsis & Schedule.
Course Duration: 40 hours (part-time)
Course Schedule: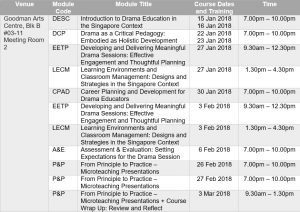 ---
Course Fee: $1,016.50 (including admin and registration fees)
Subsidy: NAC-AEP
Arts instructors who meet the following criteria may enjoy a 50% course fee subsidy. He or she will pay only S$508.25 after the course fee subsidy.
Have at least two years of teaching experience in schools AND
Proficient in English language AND
Are Approved to conduct programmes under the NAC-AEP 2015/2016 and 2017/2018 OR
Have Conducted NAC supported programmes
SDEA Members
Arts instructors who meet the criteria and is a member of SDEA will enjoy a 70% course fee subsidy. He or she will pay only $304.95 after the course fee subsidy.
Applicant can apply to be an SDEA member here.
Applicants must attain a full 100% attendance in the course and be certified competent in order to be eligible for the funding. Failing which the individual is liable to forfeit the subsidy and bear the full course fee.
SDEA Members
If you do not meet the 50% course fee subsidy and is a member of SDEA, you will be entitled of 20% off from the full course fee and pay only S$813.20 (including admin and registration fees).
SkillsFuture Credit Eligibility
Singaporeans above 25 years old who are eligible for SkillsFuture Credit can apply for a claim for this course at SkillsFuture Course Directory here. Applicants who request for school e-billing will not be eligible for SkillsFuture Credit.
UTAP (Union Training Assistance Programme) Eligibility
This course has been approved for UTAP support.
Please note that members are required to fulfil the following conditions to be eligible for UTAP reimbursement:
Paid-up union membership before course commencement, throughout whole course duration and at the point of claim
Course by training provider must be supported under UTAP, and training must commence within the supported period
Course must not be funded through company sponsorship or other types of funding
Unfunded course fee must be S$20.00 and above
Member must achieve a minimum of 75% attendance for each application and sat for all prescribed examination(s), if any
UTAP application must be submitted within 6 months after course completion
You may find this course at the course directory here. SDEA Tina Sergeant Professional Development Initiative (TSPDI) You may apply for TSPDI here if you are not eligible for NAC-AEP subsidy and you meet the application criteria for TSPDI.
---
Course Application: Click here to download form Closing Date for Application: 22 Dec 2017, extended to 7 Jan 2018, Sunday, 2359 hour Course Venue: Blk B Level 3, #03-18 Meeting Room 2, Goodman Arts Centre, 90 Goodman Road, Singapore 439053 (How to get to the venue)
---
Assessments: Part I: Lesson Plan – to be submitted after Developing and Delivering Meaningful Drama Sessions: Effective Engagement and Thoughtful Planning (EETP) Module Part II: Microteaching – to be conducted after Learning Environments & Classroom Management: Designs and Strategies in the Singapore Context (LECM) Module Part III: Reflection Paper – to be submitted after completion of all the modules of the course Click here to watch the video!
---
Feedback from course participants: "The concepts, pedagogy, sharing of knowledge and experience by fellow coursemates and the proficient trainers was most useful to me." "Thank you for giving me a structure. This has helped me to step back, question myself and introduce new concepts which is working for me in my practice." Learn more about the work of our alumni here.