SDEA Essentials of Teaching and Learning Approaches - Community of Practice 2
"Great Insights"
"[Useful] to hear experiences from like-minded people in the same industry"
"[I benefitted by] connecting with fellow educators and sharing of experiences"
SDEA's inaugural Essentials of Teaching and Learning Approaches Community of Practice (ETLA-CoP) was well-attended and gave ETLA graduates an opportunity to reflect on their practice and hear from others. 
Special thanks to Committee Member Adeeb Fazah who facilitated an activity based on SDEA's Code of Professional Practice and congratulations to the latest batch of ETLA graduates (ETLA08)!
Now, we're back for our next session of ETLA-CoP, happening on 7 September, where we will be discussing matters related to contracts with lawyer and playwright Wang Liansheng!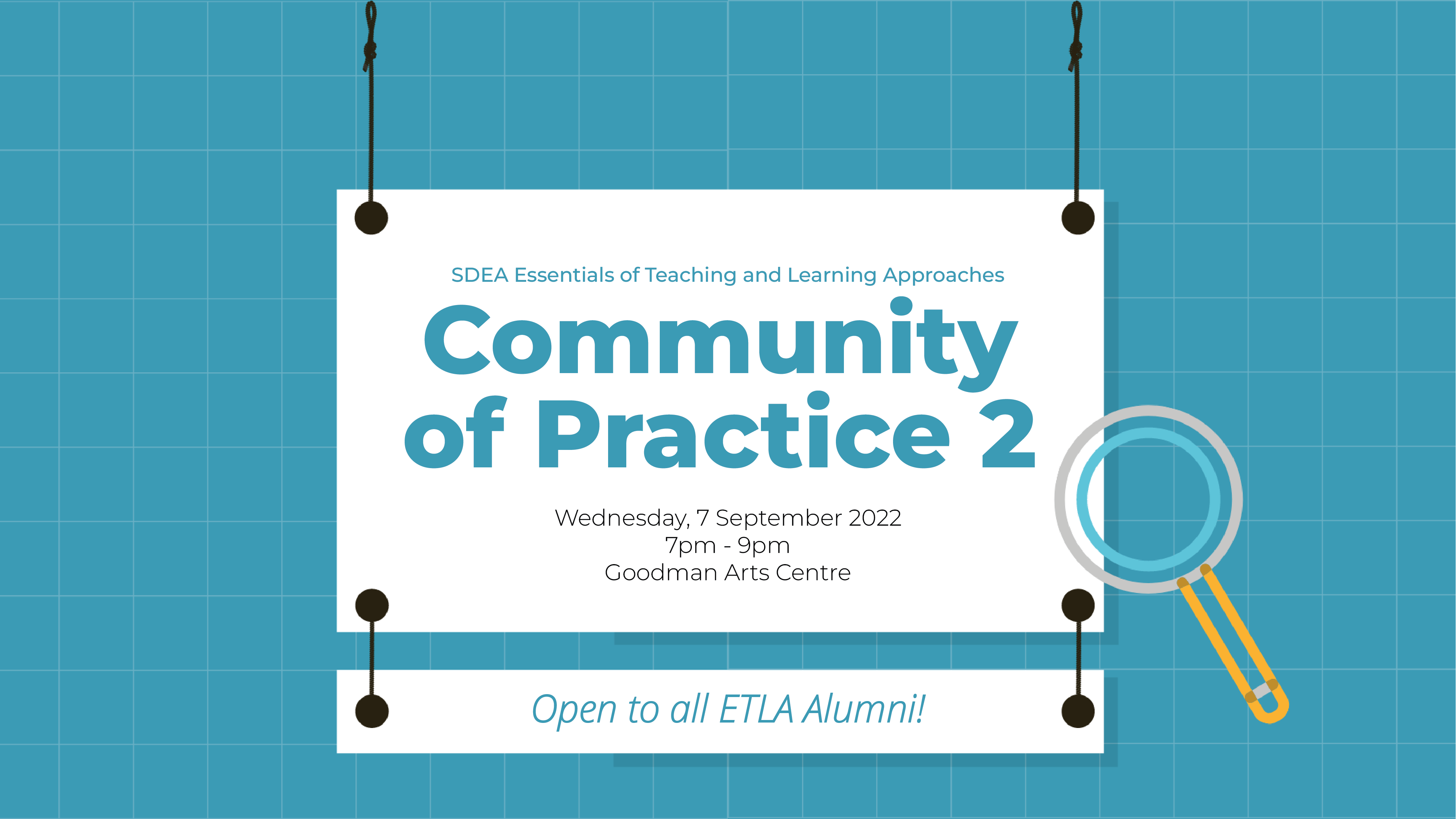 The ETLA-Community of Practice (ETLA-CoP) is where ETLA alumni come together every quarter to share best practices and new knowledge to advance professional practice. Each session focuses on a different topic of interest, and provides participants the time and space to reflect on their teaching practice, as well as share and learn from their peers in a casual, relaxed environment.
This session, we're happy to have Wang Liansheng, a lawyer and playwright, to give participants a short primer on contracts and answer any questions that participants might have with regards to any legal/contractual issues they face in schools.
You can drop any legal/contractual-based questions here so that we can answer them during the session!
We are also inviting a member of the SDEA Legal Playbook Workgroup to share the progress of their project. Participants are encouraged to bring along samples of contracts or clauses that you might be confused or have questions about to unpack during the session. All are welcome to ask questions and share their experiences.
Together, let's take the opportunity to reflect on the last 3 months of teaching in a relaxed, casual environment so bring along food and drinks!
*Please note that ETLA-COP is only open to ETLA Alumni.
If you require any support, please contact projects@sdea.org.sg.
About the Facilitators
Wang Liansheng 
Wang Liansheng is a lawyer and playwright. Liansheng graduated from the National University of Singapore, Faculty of Law and is currently a Partner at Bih Li & Lee LLP. His area of practice is general litigation, with a focus on private client and corporate matters.
As a playwright, Liansheng has presented commissioned works with the Singapore Arts Festival, NUS Arts Festival, Institute of Technical Education and the Esplanade Studios RAW season. Liansheng is also a graduate of Centre 42's Dramaturgy Apprenticeship Programme. Liansheng's foray into the professional scene began with working with The Theatre Practice in 2005 as a crew, and it has been an incredible journey since. A firm believer in the intangible value of art-making, Liansheng routinely advises arts practitioners and freelancers on a pro bono basis and strives to make art-making more equitable for all.
The Legal Playbook Workgroup
The Legal Playbook advocates for fairer terms and conditions for drama educators. Made up of arts managers, educators, and practitioners, the group was first formed as a focus group in 2020, investigating the cancellations of jobs faced by freelance educators at the start of the pandemic and the challenges they faced in understanding and negotiating unfair clauses in their contracts.
The workgroup is working with practicing lawyers to create a legal Playbook for Drama Educators, that will guide practitioners through understanding and negotiating for fairer clauses and better practices in their contracts. Some topics the playbook aims to cover include Intellectual Property, Liability Clauses, Force Majeure Clauses, and more.