SDEA's Masterclass: Self-With-Others Actor Training
On 13 February 2016, John Britton led a masterclass on 'Self-With-Others' - an improvisation-based physical approach to training as a performer. The masterclass was a positive experience for participants who were a mix of drama educators and theatre practitioners. The approach encouraged a creative daring and helped them understand how to empower and embolden the people they work with.
---
Registration is closed. The masterclass series is SDEA's platform to advocate regular professional development among drama educators, drama trainers, artists and theatre practitioners through flexible and skills-focused 4-hour workshops.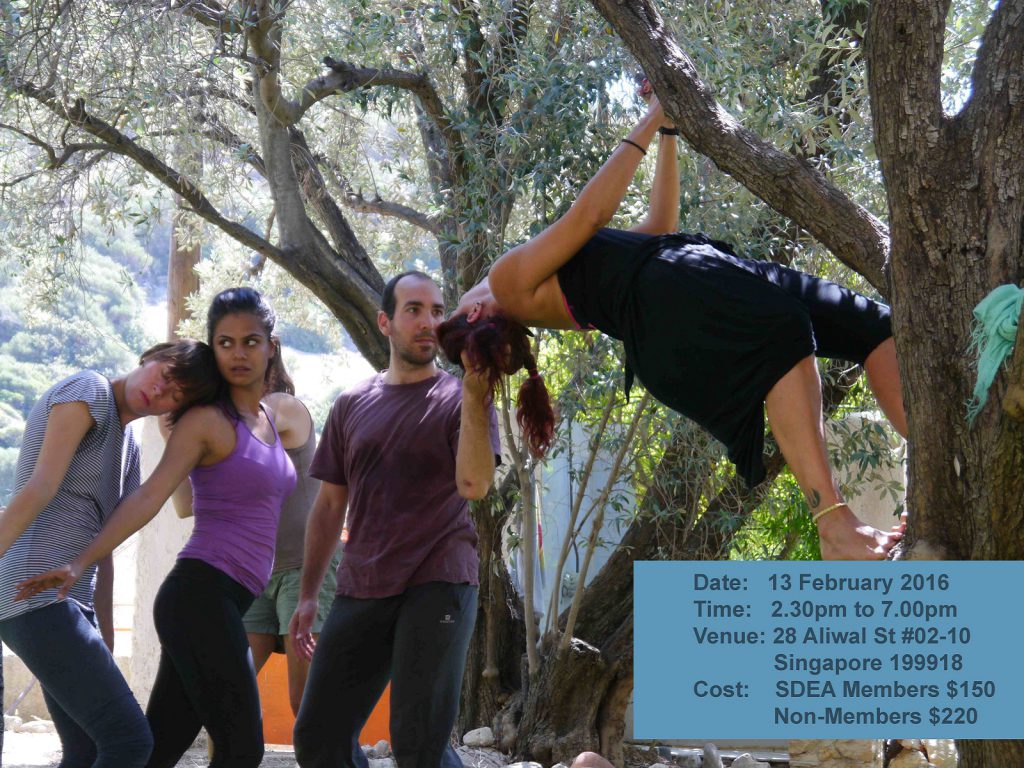 You are invited to participate in an introduction to 'Self-With-Others' - an improvisation-based physical approach to training as a performer. 'Self-With-Others' is a psychophysical approach which encourages the bringing together of mind and body into every action, the unifying of thought and action. It is based on a set of clear principles - the most important of which is the need for performers to have a deep pleasure in their work. If you are not enjoying your work, you are not doing it properly.
This workshop will combine fixed and semi-improvised physical training exercises to develop spontaneity, physical discipline and stamina, connectedness, reactivity, use of body/voice, presence, liveness and the ability to give detailed and developmental feedback to self and to others. It will encourage you to understand your performing body better, to trust it more, to play with more confidence. It is an approach which will encourage your own creative daring and help you understand how to empower and embolden those you work with.
This approach to training performers is used by John Britton - and those he has taught - to train actors, dancers, circus performers, improvisors, teachers and other artists.
Recommended for: Artists and Theatre Practitioners
About John Britton
John is the founder and Artistic Director of DUENDE, an international collaboration of artists committed to ensemble practices. He is also the Director of The DUENDE School of Ensemble Physical Theatre. His approach to training individuals within ensemble (Self-With-Others) is the foundation on which DUENDE's work is built. Self With Others is the heart of John's work as a teacher, director and performer. He uses this approach to train existing companies, professional performers, students and others in groups and individually. More information about John Britton: http://bit.ly/johnbritton Comments on John Britton's work: http://bit.ly/jbtestimonials Information about DUENDE: www.duende-ensemble.com
Details of Masterclass
Registration of Masterclass starts at 2pm on 13 Feb 2016.
Price: SDEA Member $150 ; Non-SDEA Member $220 (normal rate) ; SDEA Theatre Arts Conference 2015 Full Pass Holder $150 ; Five (5) Participants & above $150 per person
Please email to projects@sdea.org.sg for group registration.