An international theatre arts conference with a special focus on practices in South East Asia.
The SDEA Theatre Arts Conference is an international conference organised by SDEA. It provides a platform for practitioners to share their work, methodologies and research.
The conference comprises academic presentations, performances and workshops and is held once every two years, alternating with Celebrate Drama!
SDEA Theatre Arts Conference 2023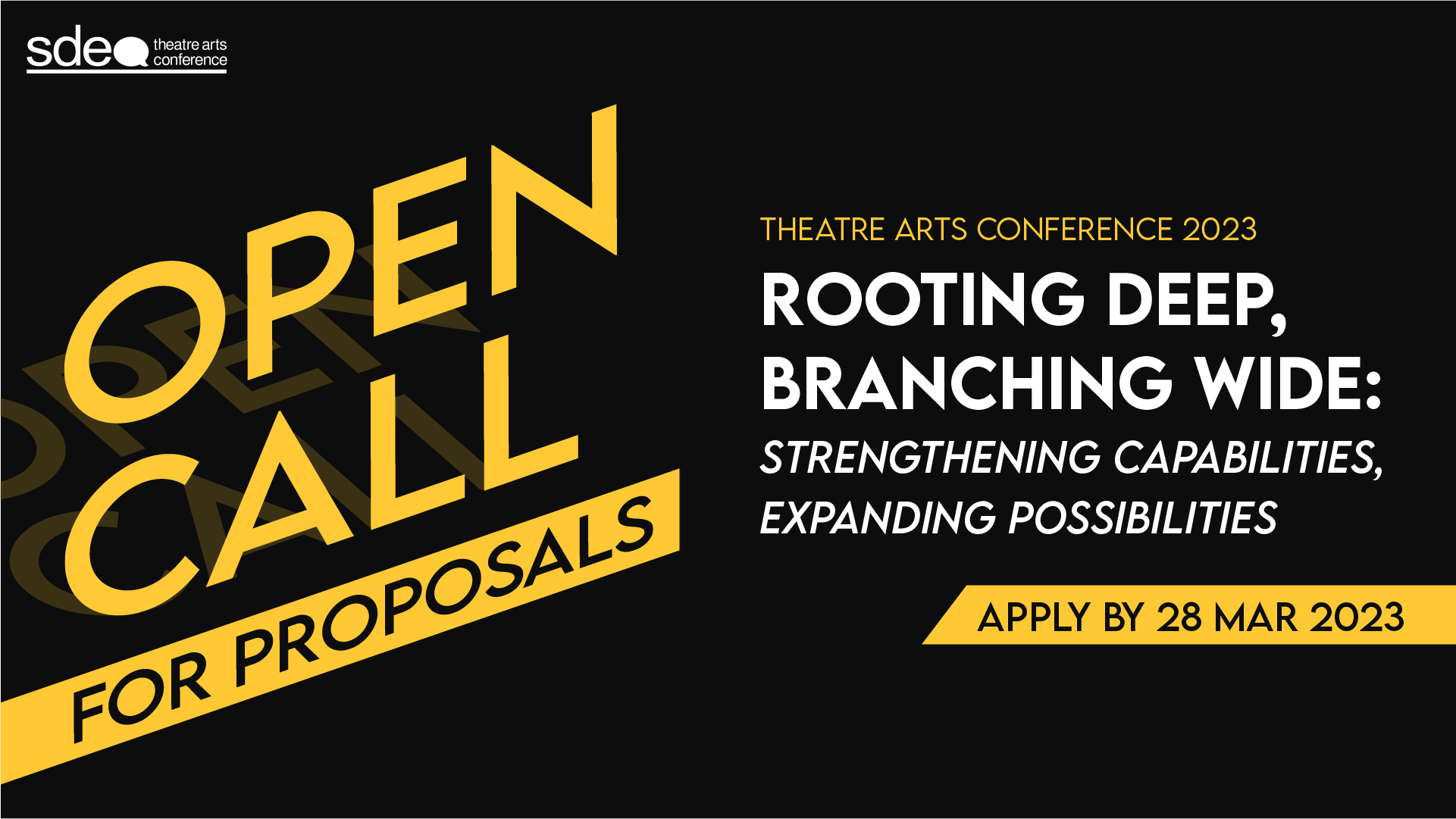 Creatives, by nature,  observe, raise questions, stimulate thought, and develop agency. As we dig our roots deeper to find meaning in our current contexts, practices, and environments, we branch wide to explore new ways of doing and ways of being in an increasingly complex world. The SDEA Theatre Arts Conference 2023 aims to examine  these current and evolving ways, especially within education, community, and performance.
Inviting artists, educators, practitioners and researchers to think about their work through the lenses of Practices & Pedagogies, Spaces & Places, and/or Causes & Communities, this conference will feature a range of presentations, workshops, lectures, and performances.
Rooting Deep, Branching Wide: Strengthening Practices and Expanding Possibilities, calls for proposals that respond to the theme - addressing but not limited to:
Process-driven work on social justice, equity and diversity
Creative work on environment, sustainability and climate change
Creative practices as acts of care, resistance, reconnection and regeneration
Representation and inclusion in the arts
Creative practices in formal and nonformal sites of learning
Unconventional interventions in conventional spaces
Creative work in spaces and places of tension and conflict
Creative practices that question the status-quo
Artistic activism for social change
Reimagination of creative pedagogies in education
Digitalisation as an enabler for creative engagement in a hybrid world
Artist-led responses and strategies to address significant societal matters
The SDEA Theatre Arts Conference 2023 will be conducted in a hybrid format. It will take place from 30th June 2023 to 2nd July 2023
Click here to join our mailing list to receive updates on this and other news on the SDEA Theatre Arts Conference. 
---
SDEA Theatre Arts Conference is currently accepting proposal applications. The open call submissions deadline has been extended to Tuesday, 28th March 2023, 11:59pm (SGT)
To apply
Download a Proposal Submission Form

Email a completed form to conference@sdea.org.sg by Tuesday, 28 March 2023, 11:59pm (SGT)

SDEA will get in touch with you regarding your application.
For further enquiries, please reach out to conference@sdea.org.sg
Featured Programmes
Find out about Theatre Arts Conference's programmes and join their upcoming sessions.