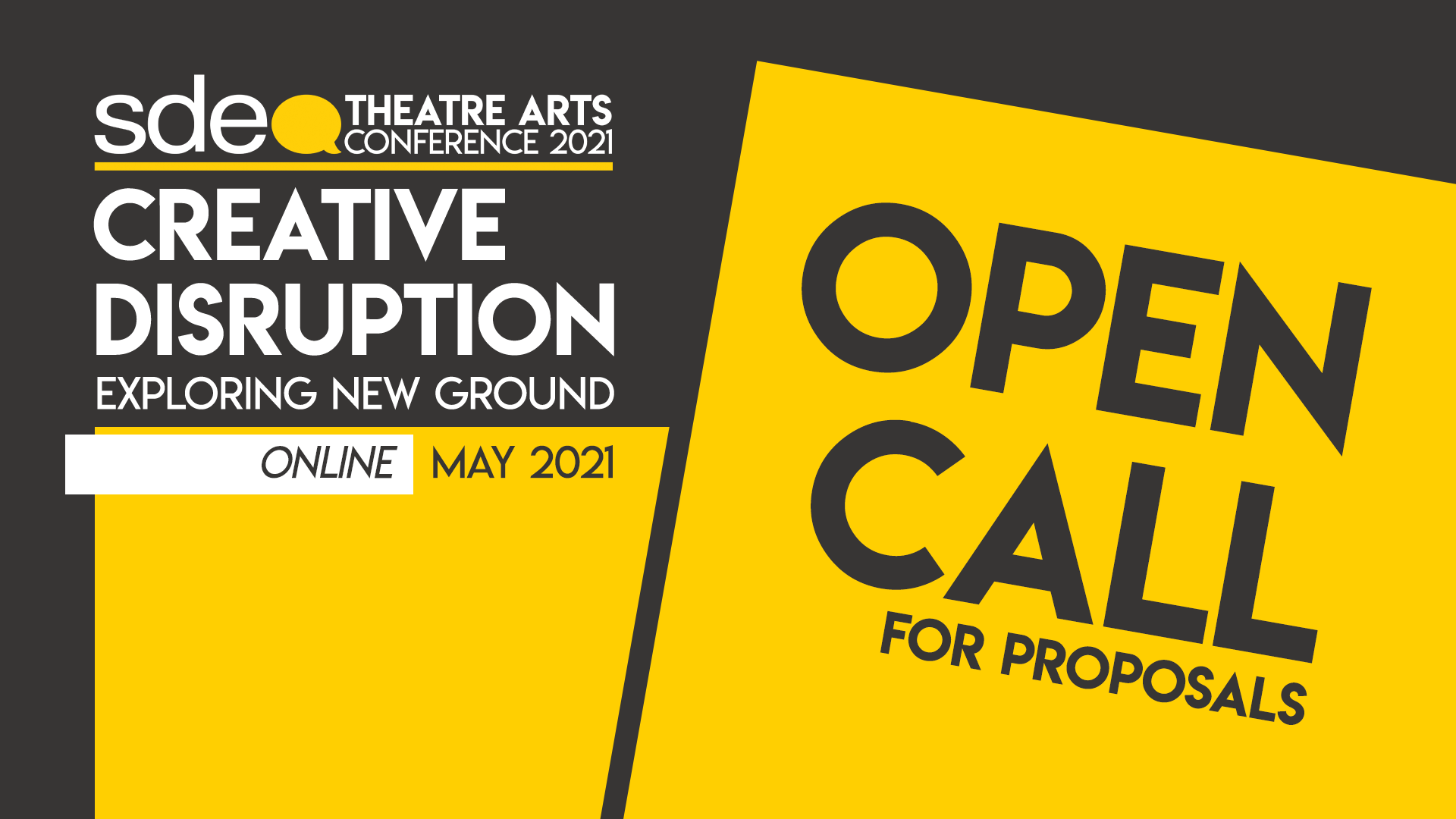 SDEA Theatre Arts Conference 2021
Creative Disruption: Exploring New Ground *Updated* 22 to 30 May 2021
---
Challenge your ideas of inclusivity, community, and creativity at the SDEA Theatre Arts Conference 2021 as we question: How have our notions of 'theatre' been disrupted within people and places, allowing for new ways of living and working? What can we do to ensure better access and representation in our practices? How do we expand our capacity for discovery and reinvention?
Creatives, by nature, are catalysts for change — they disrupt, raise questions, challenge thoughts, and seek out a sense of agency. As community workers, educators, applied theatre practitioners, and artists, we tilt the axis when we dare to re-imagine, re-create and re-define the status quo. We strengthen our ecosystem when we come together to share and build upon each other's insights and creative processes.
This 5th iteration of the SDEA Theatre Arts Conference invites attendees to explore working with the unfamiliar, the challenging, the new, and the alternative, within Singapore, Asia and the world. What challenges do artists have to overcome when working in or alongside societies that expect conformity? How can art-makers re-conceive the use of public, mainstream, and non-conventional spaces? How do the conversations of drama educators and theatre practitioners change from community to community, place to place?
The conference will feature a range of research papers and presentations as well as interactive, experiential and practical workshops on applied drama and theatre practices within the community, education, health, and performance sectors. We invite explorations and responses to the 2021 theme, Creative Disruption: Exploring New Ground, addressing but not limited to:
Artistry in process-driven work
Disability representation in the arts and creating performance using the Aesthetics of Access
Creating work in spaces and places of tension
Reimagining creative pedagogies in education
Inclusion in creative practice within and beyond the classroom
Applied arts and physical and/or mental health
Unconventional interventions in conventional spaces
Artist-led responses and strategies to creating work from disruption
---
Change of Format of Theatre Arts Conference 2021 In light of disruptions caused by COVID-19, The SDEA Theatre Arts Conference 2021 will be adapted to an online digital format, and will take place between Saturday 22 May 2021 and Sunday 30 May 202**1**.
Despite the easing of circuit breaker measures in the host country of Singapore, the impact of COVID-19 has far reaching consequences, and much uncertainty remains on a global level. The TAC organising committee and the SDEA committee of 2019-2021 has therefore taken the step to move the conference online, to make it accessible to those who would not have been able to make it down to Singapore due to scheduling conflicts or travel restrictions.
The organising committee welcomes the challenge of organising the conference in this format, and looks forward to receiving exciting presentations that will address the theme: Creative Disruption – Exploring New Ground.
Our application form has also been adapted to suit this change. You can access the form here.
We look forward to your participation in May 2021!
---
To apply
SDEA Theatre Arts Conference is currently accepting proposal applications.
Download the Proposal Submission Form here.
email a completed form to conference@sdea.org.sg by Sunday, 4 October 2020, 11.59pm (SGT) *UPDATED*
SDEA will get in touch with you regarding your application.
We are currently exploring ways to digitise aspects of our conference so that more international delegates can have access to either presenting or attending the SDEA Theatre Arts Conference in 2021. Click here to join our mailing list to receive updates on this and other news on the SDEA Theatre Arts Conference 2021.
For further enquiries, please reach out to conference@sdea.org.sg.